Cart (

0

)
The item you just added is unavailable. Please select another product or variant.

Cart
Recently Added
Total $0.00
The item you just added is unavailable. Please select another product or variant.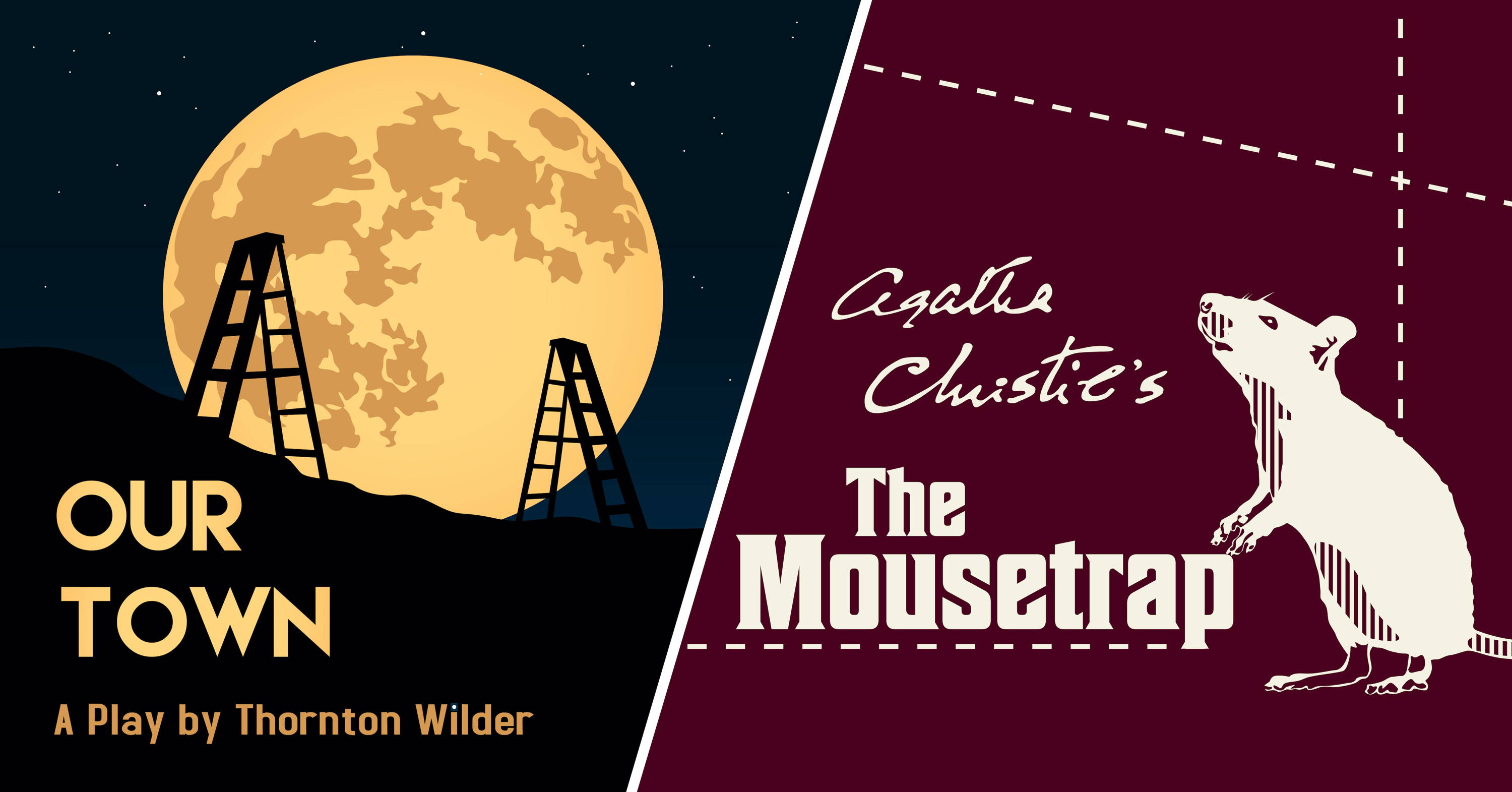 AUDITIONS for OUR TOWN & THE MOUSETRAP at The Waldo!
CALLING ACTORS: We're excited to bring more live theatre back to The Waldo, making sure it's a safe, fun, and rewarding experience for all!
Come out for our combined productions open auditions:
Sunday, April 10th from 1-4pm and Monday, April 11th from 4-6:30pm.
OUR TOWN, by Thornton Wilder
Directed by Kate Fletcher
Show dates: June 16, 17, 18 and June 23, 24 and 25.
As we're able to gather again this spring, celebrate with us the joys, loves, heartaches - and resilience - of folks living in a small New England community.
Our Town presents the town of Grover's Corners, NH in three acts. Narrated by a stage manager and performed with minimal props and sets, the play depicts the simple daily lives of the Webb and Gibbs families as their children fall in love, marry, and eventually – in one of the most famous scenes in American theatre – die.

Both teens and adults are encouraged to audition for Our Town! Auditioners will read from script sides provided at the theatre. See below for a list of characters.
Characters:
Stage Manager – a narrator, commentator, and guide through Grover's Corners. He joins in the action of the play periodically

Emily Webb – one of the main characters; we follow her from a precocious teenaged girl.

George Gibbs – the other main character; the boy next door, a kind but irresponsible teenager who matures over time.

Dr. Frank Gibbs – George's father, the town doctor.

Mrs. Julia (Hersey) Gibbs – George's mother. She dreams of going to Paris but doesn't get there.

Mr. Charles Webb – Emily's father, Editor of the Grover's Corners Sentinel

Mrs. Myrtle Webb – Emily and Wally's mother.

Rebecca Gibbs – George's younger sister.

Wallace "Wally" Webb – Emily's younger brother.

Some of the following parts will be doubled:

Joe and Si Crowell – local paperboys.

Simon Stimson – the choir director and church organist.

Joe Stoddard - the undertaker

Howie Newsome – the milkman

Professor Willard – a rather long-winded lecturer

Woman in the Balcony

Man at Back of Auditorium

Lady in a Box

Mrs. Louella Soames – a gossipy townswoman and member of the choir

Constable Bill Warren

Three Baseball Players

Sam Craig – a nephew of Mrs Gibbs who left town to seek his fortune.

Man from among the Dead

Woman from among the Dead

Mr. Carter

Farmer McCarty

The Mousetrap, by Agatha Christie
Show dates: Sep 22, 23, 24, 29, 30, Oct 1
After a local woman is murdered, the guests and staff at Monkswell Manor find themselves stranded during a snowstorm. It soon becomes clear that the killer is among them, and the seven strangers grow increasingly suspicious of one another. A police detective, arriving on skis, interrogates the suspects: the newlyweds running the house; a spinster with a curious background; an architect who seems better equipped to be a chef; a retired Army major; a strange little man who claims his car has overturned in a drift; and a jurist who makes life miserable for everyone. When a second murder takes place, tensions and fears escalate. This record-breaking murder mystery features a brilliant surprise finish from Dame Agatha Christie, the foremost mystery writer of her time.
Auditioners will read from script sides provided at the theatre. See below for a list of characters.
Characters:
MOLLIE RALSTON – A newlywed who has inherited Monkswell Manor and has opened it as a guesthouse with her husband. A hospitable and warm, if slightly naive, hostess and cook.
GILES RALSTON – The more cautious proprietor of Monkswell Manor. Supportive of his wife, but less thrilled to run a guesthouse. A traditional gentleman who's quick to judge his guests.
CHRISTOPHER WREN – A young architect with a flamboyant and often inappropriate sense of humor. His energetic conversation can appear both lighthearted and sinister.
MRS. BOYLE – A retiree whose acerbic tone makes her a challenging guest. Strong-willed and uncompromising, with high expectations. Pleased only when expressing disappointment.
MAJOR METCALF – An affable guest who is willing to help his hosts cope with the consequences of the snowstorm. Retired from the army, steady and calm in the face of conflict.
MISS CASEWELL – A modern and somewhat aloof young woman travelling on business. Unwilling to discuss private matters and disinterested in the opinion of her fellow guests.
MR. PARAVICINI – A roguish gentleman who is not forthcoming about his reasons for being there. Delights in the guests' uncertainty and pays particular attention to his hostess, Mollie.
DETECTIVE SGT. TROTTER – The young detective assigned to reach Monkswell Manor and report on the situation as it unfolds. Determined and authoritative in his pursuit of the truth.
Casting Note: While there are certain traits the eight actors must portray, it has become evident over 70 years of performances that Christie's script and characterization allow for great flexibility of the interpretation and embodiment of each role. Innovative casting choices provide a way to bring depth, diversity and uniqueness to every production of The Mousetrap.
If you're interested in being part of the production team, please email info@thewaldotheatre.org.