Cart (

0

)
The item you just added is unavailable. Please select another product or variant.

Cart
Recently Added
Total $0.00
The item you just added is unavailable. Please select another product or variant.
Halcyon & Friends: A Winter Celebration
A virtual, live-streamed concert from The Waldo stage,
Thursday, January 14 at 7pm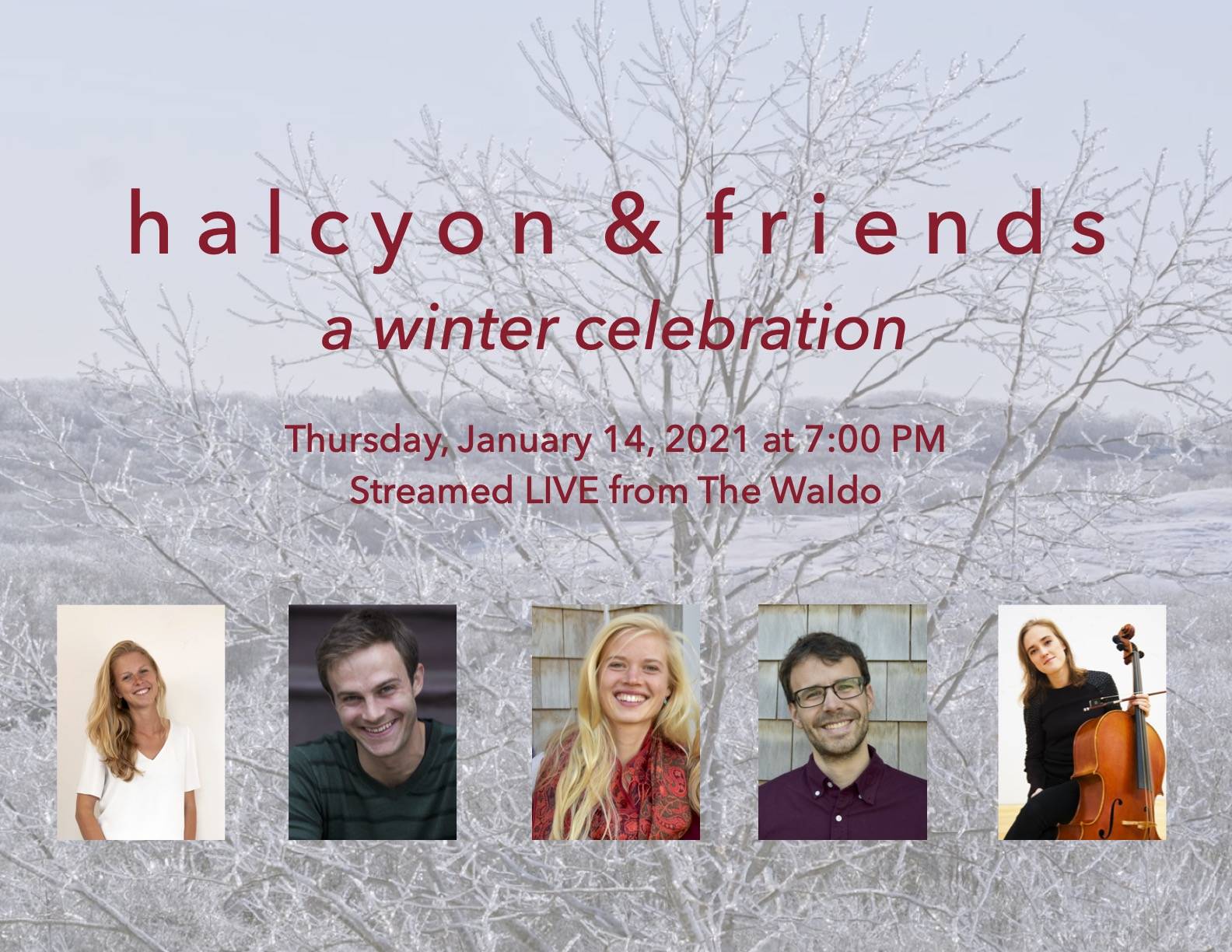 Our next event inside the historic Waldo Theatre since its closure in 2014 is a live concert with the Halcyon & Friends streamed in real-time from our stage!
Halcyon is a Maine-based string quartet dedicated to fostering connection, community, vibrancy, joy, accessibility, and warmth through musical performance. On January 14, Halcyon's Sophie and Josie Davis and Colin Wheatley are excited to collaborate with cellist Nora Willauer and violinist and videographer Luke Fatora.
"Join us as we celebrate and reflect on our collective experiences of winter and light in the northern latitudes."
Halcyon & Friends will present an evening of chamber music and accompanying film that captures winter's striking and wild beauty alongside the subtlety, quiet, and darkness that define this time of year. The program will include Vivaldi's "Winter" from the Four Seasons, Richter's On the Nature of Daylight, and works by Schubert, Debussy, Price, and others. The performance will feature locally filmed imagery that captures the intricacy and beauty of Maine landscapes.
Since The Waldo is not yet open to the public, there will be no audience in the theatre. The performance will be captured in real-time by a technical "stream team" with the use of a new three-camera system.

Make your online reservation today to watch the concert live-online January 14 and/or via the archived concert for a full week. Tickets are $15 for one person; $20 if you are watching with a friend.
Once you've made your virtual reservation you'll receive a streaming link the day of the concert.